We rarely go a day without hearing about climate change, wilderness preservation, or conservation of natural resources. But discussions of the environment often erase or ignore people of color, despite the fact that historically the very idea of "nature" is entirely bound up with the social construction of "race."
​
In the summer of 2016, English MA students at the University of Wyoming explored the interrelation of literature, film, race and environment in "nature's nation," the United States. With Dr. Erin Forbes they read works by Charles Chesnutt, Octavia Butler, Dianne Glave and others. They examined how American writers have understood the concepts of "nature" and "environment" in relation to emerging theorizations of race from the eighteenth century to today. They asked how varying conceptions of race and nature have worked to privilege some individuals or groups over others. And they questioned how imaginative writing might either perpetuate, or else help rectify social injustice?

Based on their research into these and related questions, several students wrote think-pieces and have elected to share them here on the blog. Enjoy!
Powered by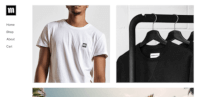 Create your own unique website with customizable templates.